21.02.22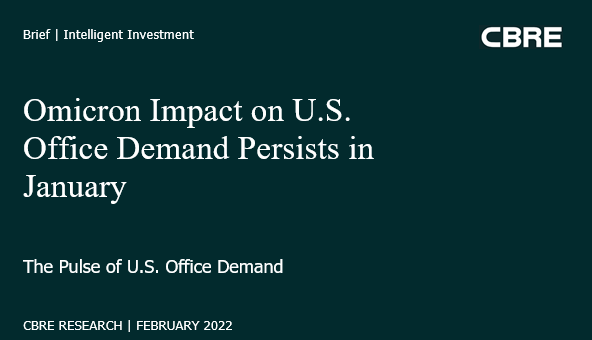 The CBRE Pulse of U.S. Office Demand slowed in January, as occupiers paused on leasing activity in the face of the omicron surge. However, an uptick in tenant requirements suggests the slowdown in leasing is likely to be temporary. Occupiers continue to pursue longer-term plans to take on new office space. Despite the slowdown, markets that had been making strong progress toward recovery largely maintained their positions, while markets that have been struggling to gain momentum continued to do so.

The U.S. Tenants in the Market (TIM) Index increased to 89, up three points from December. Three markets—Houston (121), Boston (117) and Denver (105)—exceeded pre-pandemic levels, while another four—Dallas/Fort Worth (96), Seattle (91), Chicago (91) and Manhattan (90)—were 90% or more of their pre-pandemic levels.

The U.S. Leasing Index declined to 89 in January, down 8 points from December, as many occupiers paused on signing new leases amid the omicron surge. The caution was broadly evident, as 10 of the 12 markets saw their Leasing Index levels fall.

The U.S. Sublease Availability Index increased 2 points to 195 in January. The index is down a modest 11 points since peaking in June 2021, demonstrating the challenge that surplus sublease space poses to the U.S. office market recovery.