06.11.20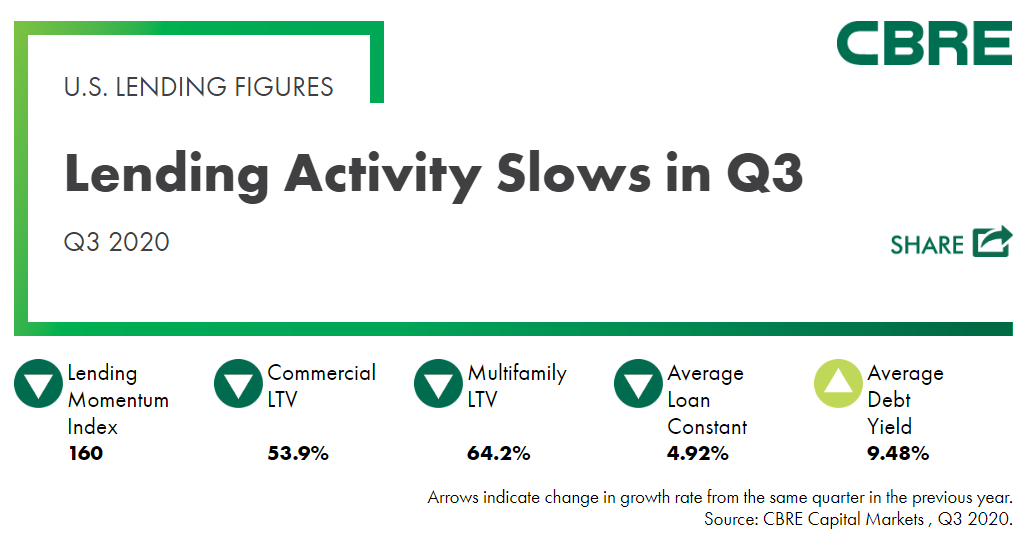 The CBRE Lending Momentum Index declined by 17.6% in Q3, as a sluggish acquisitions market continued to put the brakes on overall lending activity. However, CBRE Capital Markets notes a rise in loan applications in recent weeks—a promising sign for higher year-end closings.
• Stabilized multifamily continues to receive strong support from the agencies, while banks and life companies continue to underwrite lower leverage multifamily, industrial and selective office transactions. However, retail and hotel properties, as well as those properties with transitional issues, remain challenging to underwrite. One promising sign has been the re-emergence of quotes from alternative lenders in recent weeks, a source of capital for transitional properties and distressed situations.
• Underwriting has become more conservative in the current risk-adverse lending environment. Average loan-to-value ratios (LTVs) for permanent commercial and multifamily loans fell in Q3 to levels not seen since the Global Financial Crisis (GFC).